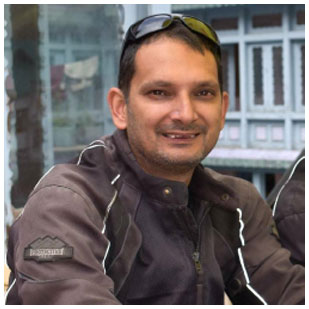 Hi, my name's Atul Bhardwaj – and thanks for visiting AB original Tours. I was born and raised in New Delhi, but after completing my formal education I grew tired of the city and wanted to experience the rest of my home country. Setting off across the sub-continent on buses, trains, bikes and even my own two feet, I travelled to popular sites, explored off the beaten track, and ended up in places I'll most definitely return (and some I most definitely wont). I ate with locals, shared beers with tourists and fell in love, a little bit more, with the country I grew up in. And then it hit me. There's only one way to see the real India – on the back of a motorcycle! The freedom, the views, the experience… breathtaking! But it was also frustrating. From unreliable rentals to dodgy local mechanics, touring India on a bike was much harder than it needed to be. After months of research, (back then) I found the only adventure motorcycle tours offered by locals were run haphazardly and priced exorbitantly. While all others were run by companies from other countries (sometimes acting just as "agents" and making hefty commissions in the process).
the conception & birth of Aboriginal tours - circa 2007
Could I fix it? Yes, I did. AB Original Tours ("AB" being the initials of my name; No, there is no Aussie connection here) is a culmination of my passion for adventure, my love for India, and my desire to share it with you, whilst providing a higher standard in value and making only fair profits in the process. Our itineraries have been designed on our vision of comfort, friendliness and adventure that offer excellent value for money.
Get a FREE Riding in India Guide when you sign up to our newsletter.
Click here!
Making the news
Some articles about us/ our tours in newspapers & magazines and travel/ adventure web-sites around the world are displayed/listed on the "In the Media" page.
The Open Road beckons...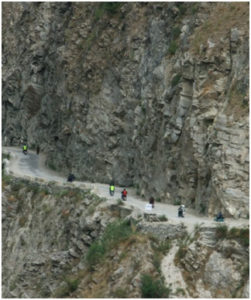 A Motorcycle journey through the world's highest Himalayan mountains or the "royal" desert state of Rajasthan requires meticulous planning, painstaking organisation and judicious preparations. Finding a reliable motorcycle, tools & spares, arranging "inner-line" permits, lugging all your stuff on the bike & searching for comfortable & value for money lodging are enough to discourage an otherwise adventurous traveller from embarking on such a quest. This is where we come in. ABoriginal Tours, with twin bases at New Delhi and Solan, is a small but cozy family run outfit. We are a Motorcycle Tour Operator and we do not offer anything except the tours and some add-on services to facilitate the tours. We are neither "agents" nor do we employ the services of "agents" to sell our tours. That way we offer the best services at great value straight to our valued customers. (No… our tours will not make any un-scheduled stops at "Handicraft Shops" and the Taj Mahal is not for sale!). We offer a total experience for the adventurous travellers who have dreamt of traversing this land on a motorcycle but dread the hassles of organizing such a journey on their own.
Why join an organized/ guided tour?
Our Tours have several advantages but three aspects stand out in particular. The first is that in India having a Reliable Motorcycle is crucial to making such a holiday "memorable" rather than "forgettable". Touring on our well maintained fleet of Royal Enfields (we do not rent our bikes individually, they are only used exclusively for our own group tours) saves you tons of hassles & leaves only the exploration & adventure for you to enjoy. The second is that, by carefully selecting and arranging comfortable & reasonable lodging and dining locations throughout the tour, we free up more of your valuable vacation time (& money) for riding and having fun. Last, but certainly not least, our tours give you the chance to enjoy the company of other riders from many parts of the world. In addition to enjoying a great motorcycling vacation you'll have an opportunity to gain new friendships that could last a lifetime.
WHY US? (Kinda blowin' our own horn here!)

VALUE FOR MONEY:
Check our prices and what's included in it. Then go ahead and compare with anyone you want. Our prices offer real value for money without making any compromise towards comfort & safety. Plus, at these budget rates we arrange accommodation at Mid-range Hotels, inclusive of Breakfasts & Dinners !

DISINTER-MEDIATION ("cutting out the middleman"):
ABoriginal Tours has no agent or intermediary selling its tours and we deal directly with all our clients. Also, in this age of internet & mobile communication. we don't have any brick & mortar office.The cost savings get passed on to you.The cost savings get passed on to you.inclusive of Breakfasts & Dinners !

PROFESSIONALISM:
Your booking deposits are safe with us. All money received by us is kept in a "corpus fund" till the commencement of the tours. Deposits & Refunds are governed by our Booking & Cancellation policies set-forth in an unambiguous & transparent detail in our terms & conditions. The tours have been designed meticulously and every care is taken to provide all services mentioned in our "What's Included" section. inclusive of Breakfasts & Dinners !

LOCAL & PERSONAL TOUCH:
ABoriginal Tours is TOTALLY "locally" owned & operated outfit. We operate from two bases; one near Shimla (the capital of Himachal Pradesh) and the other at New Delhi (where the tours "start" and "end"). Besides, we are a small "family run" unit so you deal with the very same people from the time of booking till the end of the tour.The cost savings get passed on to you.inclusive of Breakfasts & Dinners !
riding for a cause
As part of our effort to bring more benefit to the regions we tour in, we organize help for schools, orphanages & other such institutions along our routes. We believe that better education and better living standards are the key to a better future for these under-privileged citizens of our country. Whenever and wherever possible we search & select such a place which falls along our route and take much needed help to them in the form of books & stationery, clothing, medical supplies, sports equipment, kitchen & dinning equipment etc. Although this is a very recent project started by Atul on his tours, contributions collected by riders on a few previous tours have already helped a few schools build toilets, safe drinking water facilities, lighting & fans, classroom & hostel furniture, computers, library books etc. Since we are not a NGO or a typical charity organization, there is zero administrative cost and 100% of the funds go straight where they should. Our process is simple - A. We accept voluntary contributions to add to funds we have already set aside from our annual profits for charity; B. We make arrangements to buy things required by the selected school/orphanage/institution; C. We visit them along with the group and deliver it to them. Besides 100% delivery, this also helps keep 100% transparency. In addition, when we ride to these schools (wherever possible) the kids (& adults alike) are delighted to see the bikes & the riders !!… that's why we named it "Spreading Joy on 2-wheels".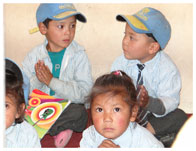 If you are wondering why this web page is hiding here… here's the reason. A lot of tour companies are accused (sometimes rightly) of using charity as a marketing tool to sell their tours with little actually making it to the needy. Hence, we specifically do not promote this on our home page or in any of our communications with prospective customers. Atul's mantra is clear - by choosing us for your tour, you have already contributed to our efforts to help under-privileged people of our homeland. However, you might get the opportunity to chip-in a bit more, if you want. Following are some photos of from our previous such efforts…

Email Us
+91 98162 85325