Kerala Motorcycle Tours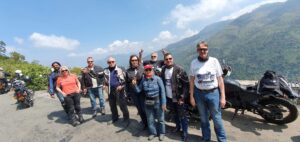 KERALA – popularly referred to as "God's own country" in tourism circles, lives up to it's tag in more than one ways. Kerala is a place resplendent with natural beauty.  It's breath-taking views & natural splendors pull aside their green curtains to greet every traveler.  No wonder it was chosen by National Geographic as "one of ten paradise on earth and one of 50 must-see destinations of a lifetime".  One of the 28 Indian states on the tropical Malabar coast, it is known for it's palm-lined beaches, backwaters, network of lagoons & canals, tea, coffee & spice plantations, coconut groves & rice paddies.  The state's name, in fact, originates from 2 words; "kera" and "alam", where "kera" means coconut and "alam" means land.
Eastern Kerala consists of high mountains, gorges and deep cut valleys of the "Western Ghats" which form a wall.   In a blink of an eye mists slip over emerald green hills creating a "heaven" like panorama.   The wildest lands are covered with dense forests while other regions lie under tea & coffee plantations.  Kerala's coastal belt is relatively flat, teeming with paddy fields, groves of coconut trees.  In other words, it's a motorcyclist's delight.
Apart from the food, pristine rain forests and beguiling beaches, the one feature that is exclusive to Kerala are the backwaters.  Heavily criss-crossed by a network of inter-connected canals & rivers it is a labyrinthine system formed by more than 900 km of waterways, and sometimes compared to the American Bayou.  It is a unique ecosystem; freshwater from the rivers meets the seawater from the Arabian Sea.
Also known as the "land of spices", Kerala has been gifting the rest of the world; flavor, fragrance and colour for many centuries.  The climate of Kerala is ideal for the cultivation of a wide variety of rich spices.  Some of the most favoured spices of Kerala include Pepper, Cardamom, Vanilla, Clove, Cinnamon, Ginger, Nutmeg, Turmeric, etc.  Over the past few centuries, Kerala has secured a favourable position in the global spice market with its variety of spices in terms of both quality & quantity.  It is in fact a matter of pride for Kerala that a tremendous share of the world's total spice trade is still being contributed by this small state.  Being bestowed with Kerala as its rich spice bowl, no country in the world produces as many varieties of spices as India.
With its untouched lush greenery, distinctive culture and tradition, Kerala stands out as a top tourism destination in India.  However, we can promise you something more; seeing it from the saddle of a Royal Enfield motorcycle makes it even more splendid.  Come and join us on an unforgettable journey…
A quick look at what we offer on our tours:
Motorcycle Tours in the region on Royal Enfield Motorcycles (in immaculate condition)
"Luxury" accommodation at best in the industry prices
Completely hassle free journeys – we take care of all the "logistics"; Motorcycles, Accommodations, spares & gears, experienced support staff (Ride leader & mechanics) and support vehicles etc.
All tours are ex-Kochi (COK) so you can "fly-in" and "fly-out" with convenience.
2 different tour start dates to choose from during the best period to ride in the region.
Carefully chosen points of interests, sightseeing/ side-trips & cultural experiences in the region.
Meet & Greet and Farewell Add-on services
Information & Assistance with onward travel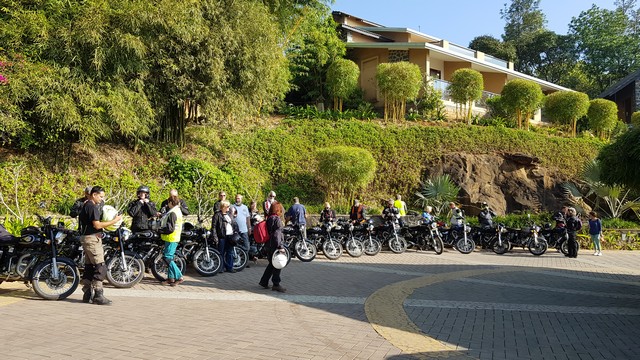 Join our meticulously designed itinerary through "God's own country" and experience motorcycling delight as you ride a Royal Enfield motorcycle and meander through it's spectacular scenery; mountain roads, Coconut groves, spice & tea plantations, Wildlife sanctuaries, tiger & elephant reserves, backwaters, lagoons & beaches. Our tours start and finish at the port city of Kochi. Immerse yourself in Kerala's vibrant culture as well as mouthwatering cuisine – all of which is essentially INDIA.
Kerala Essentials
DRIVING LICENSE (Rider): Full and valid for 500cc motorcycle
INTERNATIONAL DRIVING PERMIT (Rider): Obtain from your country of residence.
TRAVEL INSURANCE: Must cover riding 500 cc motorcycles
PROPER PROTECTIVE RIDING GLOVES – SUMMER
PROPER RIDING BOOTS - Preferably water-proof High Ankle
RIDING JACKET + PANTS
HELMET - We'd prefer if you brought your own
* Please note that if your riding gear doesn't include proper padding OR if you choose not to wear one (specially on warm days), please bring separate Knee & Elbow guards.
RAIN-SUIT (Full) - if your riding gear is not water-proof
RIDING GOGGLES
BALACLAVA (to protect from dust & insects)
EYE DROPS
SUN SCREEN / SUN BLOCK AND LIP BALM
TORCH/FLASHLIGHT
INSECT REPELLENT
MEDICINES/DRUGS (LEGAL) Carry prescriptions with you.
OTHER PERSONAL CLOTHING
ITEMS OF PERSONAL CARE & HYGIENE
optional/suggested
SUNGLASSES / SUN HAT
WATER CARRIER/HYDRATION PACK
EAR PLUGS
YOUR FAVORITE BOTTLE OF LIQUOR & COFFEE