Eastern Himalayan Motorcycle Tours
Sikkim is a wonderland blessed with natural abundance from icy cold deserts, flowering alpine meadows, to lush green forests and emerald mountain lakes. The crowning glory of this wonderland is undoubtedly the magnificent Mt. Khangchendzonga (8,586m), the third highest mountain of the world.   The snow-capped mountain ranges, lush thick forests, plunging mountain valleys flush with rich flora and fauna, picture perfect villages, groves of rhododendrons, hot –springs, waterfalls, perennial streams and grand rivers Teesta and Rangit all contribute to shape Sikkim as a magical, mystical wonderland.
Keeping in tune with the natural diversity, Sikkim has an equally rich and diverse demographic structure with myriad of communities and religions. Diverse rituals, songs, dances, traditional dresses, folklores and legends fill up the cultural canvas of the State. The chimes of bells in the temples and the flutter of prayer flags in the monasteries create a feeling of righteousness and healing of spirit and soul. Feel rejuvenated, energised and spirituality enlightened in this holy land.
Nature is revealed in its entire splendour in the serene lakes, cascading rivers and pristine waterfalls. Sacred lakes, waterfalls and hot water springs dot the mountainous landscape.  Our tour in this region is combined with the most amazing region of it's neighbouring state of West Bengal as well.  Lying amidst the slopes of the Lesser Himalayas and blanketed by emerald green plantations of tea, Darjeeling (aptly called the "queen of hills") is a picturesque town noted for its scenic beauty, ancient forests, quaint houses , friendly people and the mountain panorama that it provides.
Riding a motorcycle through this incredulous region provides a variety of experiences, both spiritual and sensory, which go beyond any language or dialect.
Advisory

: Since this tour involves riding on narrow, winding & sometimes steep roads (with countless "hairpin" bends)  and a small amount of riding (~ 5 %) is also on unpaved/gravel roads, we recommend that only riders with a certain amount of experience and confidence of such riding should consider joining these tour.  We have back-up vehicles following our riders with sufficient room for pillions who might want to take an occasional time off from pillion riding in such conditions.
A quick look at what we offer on our tours:
Motorcycle Tours in the region on Royal Enfield Himalayan Motorcycles (in immaculate condition)
Completely hassle free journeys – we take care of all the "logistics" including "inner-line permits, Motorcycles, Accommodations, spares & gears, experienced support staff (Ride leader & mechanics) and support vehicles etc.
Motorcycle riding starts/ends at the town of Siliguri, served by Bagdogra Airport (IXB) which has direct flights from Kolkata, Mumbai & New Delhi, so you can "arrive" and "depart" with convenience.
Nearest International airport is Kolkata (CCU) and add-ons are available to facilitate easy transit from your international flights as well to see this historic city.
A joyride on the UNESCO Heritage Darjeeling Himalayan Railway
Carefully selected local points of interest, sightseeing/ side-trips & cultural experiences.
Meet & Greet and Farewell Add-on services
Information & Assistance with onward travel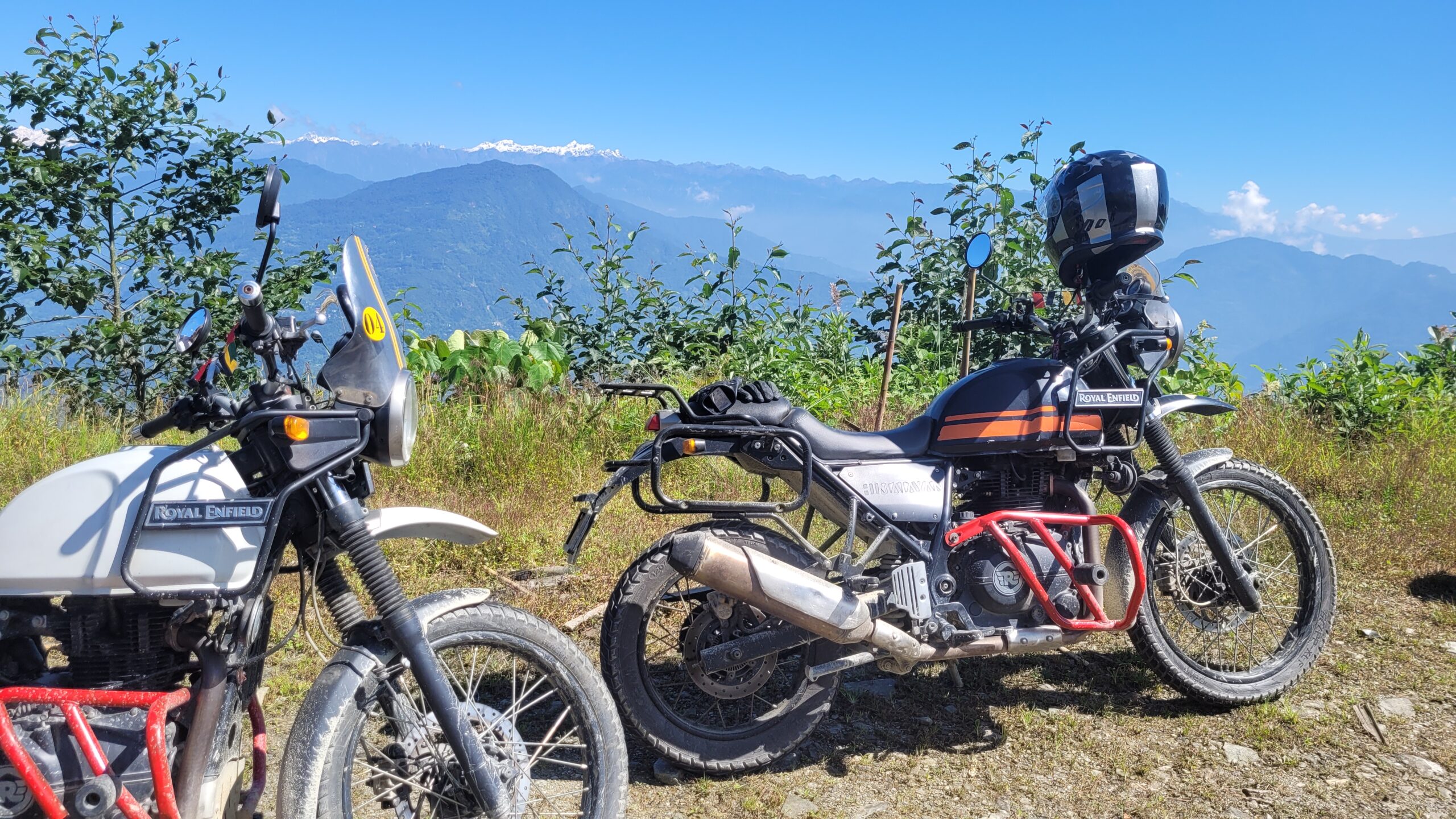 A motorcycle journey through the gem of Eastern Indian Himalayas famous for it's jaw dropping views of the High Himalayas.  Follow a 2-week itinerary of this spectacular region squeezed between Nepal, Bhutan & Tibet.
Himalayan Essentials
DRIVING LICENSE (Rider): Full and valid for min 411 cc motorcycle
INTERNATIONAL DRIVING PERMIT (Rider): Obtain from your country of residence.
TRAVEL INSURANCE: Must cover riding motorcycles overseas for leisure
PROPER PROTECTIVE RIDING GLOVES – WINTER & SUMMER
PROPER RIDING BOOTS - Preferably water-proof High Ankle
RIDING JACKET + PANTS
HELMET - We'd prefer if you brought your own
* Please note that if your riding gear doesn't include proper padding OR if you choose not to wear one (specially on warm days), please bring separate Knee & Elbow guards.
RAIN-SUIT (Full) - if your riding gear is not water-proof
RIDING GOGGLES
BALACLAVA (to protect from dust & insects)
EYE DROPS
SUN SCREEN / SUN BLOCK AND LIP BALM
TORCH/FLASHLIGHT
THERMAL UNDERWEAR & WARM (WOOLEN) CAP
INSECT REPELLENT
MEDICINES/DRUGS (LEGAL) Carry prescriptions with you.
OTHER PERSONAL CLOTHING
ITEMS OF PERSONAL CARE & HYGIENE
optional/suggested
SUNGLASSES / SUN HAT
WATER CARRIER/HYDRATION PACK
SCARF / BANDANA (to protect face/neck)
EAR PLUG
YOUR FAVOURITE BOTTLE OF LIQUOR & COFFEE you might find Indian spirits & coffee "unsavoury"
Please note: On all our tours the space on the support vehicles is limited.
Hence, we request that you limit your baggage to 25 KG.

Email Us: indianmotorcycletours@gmail.com
Or call: +91 9816285325