Middle Himalayan Motorcycle Tours
Uttarakhand is a state in northern India crossed by the Himalayas known for its Hindu pilgrimage sites along the holy rivers of Ganga & Yamuna.  No words can ever be enough to perfectly describe this blessed land.   Beauty is so inherent to almost all things Uttarakhand stands for – the magnanimous Himalayas, the holiest of the rivers, the spiritual mystery, stunning landscapes, the incessantly colorful play of nature, enchanting history carved in ancient stones, a mesmerizing floral and faunal plethora and the simplest of the people. Myths, anecdotes and stories are part of every visual that unfolds itself to the eyes of the beholder.  Rishikesh, a major centre for yoga study, was made famous by the Beatles' 1968 visit.  The city hosts the evening Ganga Aarti, a spiritual gathering on the sacred Ganges River. The state's forested Jim Corbett National Park shelters Bengal tigers and other native wildlife.
Today, these mountains are no longer restricted to the religious or the spiritual – as you shall find out when you ride a Royal Enfield amongst the highest mountainous terrains in the world.
Apart from being a unique tourism destination, Uttarakhand is a goldmine for anthropologists, historians, ornithologists, linguists, geologists … you name the discipline and the state has something on offer.
We decided to name this tour region "The Middle Himalayas" not only because of it's geographical position somewhat in the middle of the Himalayan mountain range but also because we have designed an itinerary which stays within medium range altitudes of around 1500-2500 M above mean sea level.  This region has some amazing roads for motorcyclists to enjoy riding as well offering spectacular views of the Himalayas and it's habitat.
Advisory: Since this tour involves riding on narrow, winding & sometimes steep roads (with countless "hairpin" bends)  and a small amount of riding (~ 2 %) is also on unpaved/gravel roads, we recommend that only riders with a certain amount of experience and confidence of such riding should consider joining these tour.  We have back-up vehicles following our riders with sufficient room for pillions who might want to take an occasional time off from pillion riding in such conditions.
A quick look at what we offer on our tours:
Motorcycle Tours in the region on Royal Enfield Himalayan 411 EFI Motorcycles (in immaculate condition)
Completely hassle free journeys – we take care of all the "logistics" including "inner-line permits, Motorcycles, Accommodations, spares & gears, experienced support staff (Ride leader & mechanics) and support vehicles etc.
All tours are ex-New Delhi so you can "arrive" and "depart" with convenience.
Express Train journeys between New Delhi & Chandigarh
Motorcycle riding starts/ends at the small hill town of Nahan – No need to deal with the heat, chaos & traffic of a big city
Carefully selected local points of interest, sightseeing/ side-trips & cultural experiences.
Meet & Greet and Farewell Add-on services
Information & Assistance with onward travel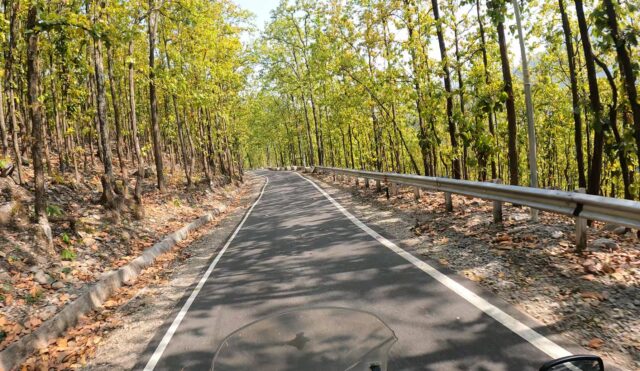 A 2-week itinerary of Uttarakhand's most scenic routes in both the Garhwal & Kumaon regions of this beautiful hill state of India.  Visit holy & historic Rishikesh, follow the banks of Ganges river, walk in wild life sanctuaries as well as soak in the spectacular views of High Himalayas from scenic locations of Kausani, Auli & Guptkashi.
Himalayan Essentials
DRIVING LICENSE (Rider): Full and valid for min 411 cc motorcycle
INTERNATIONAL DRIVING PERMIT (Rider): Obtain from your country of residence.
TRAVEL INSURANCE: Must cover riding motorcycles overseas for leisure
PROPER PROTECTIVE RIDING GLOVES – WINTER & SUMMER
PROPER RIDING BOOTS - Preferably water-proof High Ankle
RIDING JACKET + PANTS
HELMET - We'd prefer if you brought your own
* Please note that if your riding gear doesn't include proper padding OR if you choose not to wear one (specially on warm days), please bring separate Knee & Elbow guards.
RAIN-SUIT (Full) - if your riding gear is not water-proof
RIDING GOGGLES
BALACLAVA (to protect from dust & insects)
EYE DROPS
SUN SCREEN / SUN BLOCK AND LIP BALM
TORCH/FLASHLIGHT
THERMAL UNDERWEAR & WARM (WOOLEN) CAP
INSECT REPELLENT
MEDICINES/DRUGS (LEGAL) Carry prescriptions with you.
OTHER PERSONAL CLOTHING
ITEMS OF PERSONAL CARE & HYGIENE
optional/suggested
SUNGLASSES / SUN HAT
WATER CARRIER/HYDRATION PACK
SCARF / BANDANA (to protect face/neck)
EAR PLUG
YOUR FAVOURITE BOTTLE OF LIQUOR & COFFEE you might find Indian spirits & coffee "unsavoury"
Please note: On all our tours the space on the support vehicles is limited.
Hence, we request that you limit your baggage to 25 KG.

Email Us: indianmotorcycletours@gmail.com
Or call: +91 9816285325