Himalayan Grand-2:
a 3-week tour through Kinnaur, Spiti Valley & Ladakh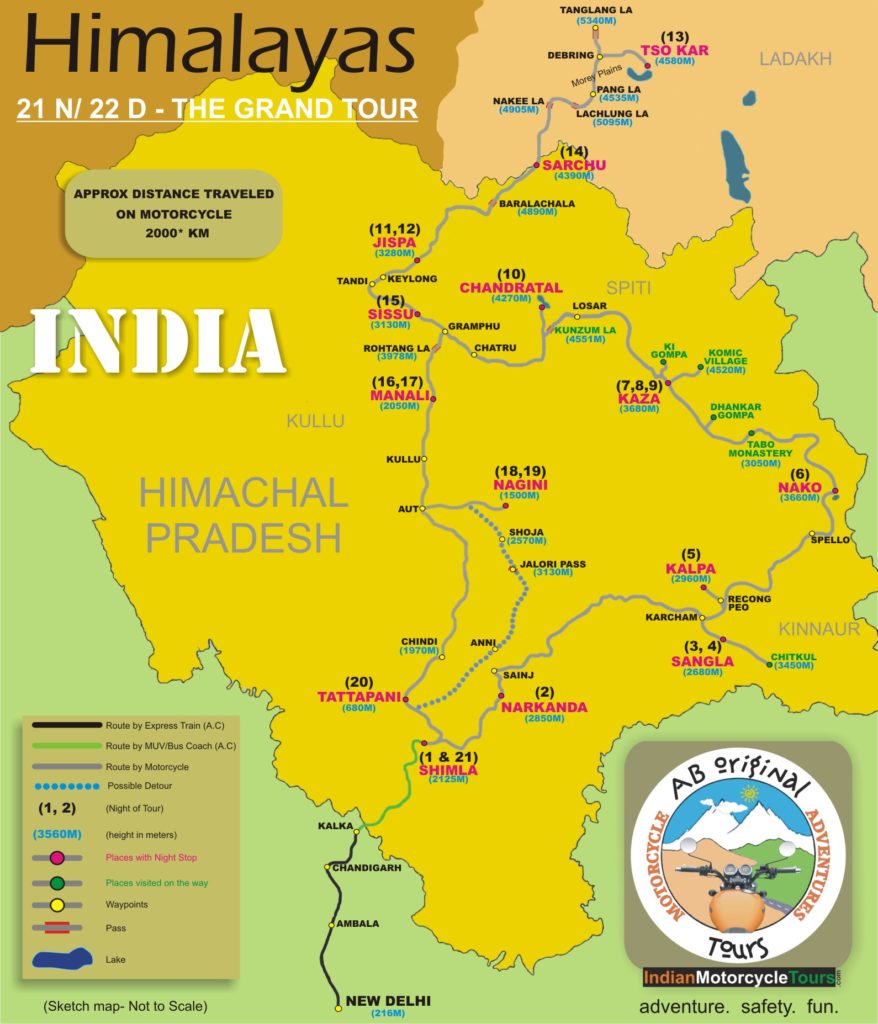 Riding Days - 17+
Distance on m/cycle - 2000* Km (Riding starts/ ends at Shimla. New Delhi - Shimla by Express Train/ Bus Coach)
Departing
Returning
Available
Price

per rider

Price

rider + pillion

Price

single room

1st Aug 2022
22nd Aug 2022

Available

₹279000 INR

₹481500 INR

₹54000 INR

31st Jul 2023
21st Aug 2023

Available

₹279000 INR

₹481500 INR

₹54000 INR
* Our tour prices are in INR (Indian rupees). The forex conversions are for indication only. Please write to us for exact quote in any currency other than INR.
Below is a day-by-day itinerary of the tour. This is how we expect the tour to flow, but as you know adventure happens! Dive in and get excited!
21 nights accommodation in double or twin-bedded rooms/tents incl. Breakfasts & Dinners
AC Bus Coach/ Chair car Express Train transfers between New Delhi & Shimla
Transportation for Local Sight-seeing (to selected locations)
Royal Enfield Himalayan 411 EFI rental motorcycle including fuel
Experienced motorcycle mechanics
English-speaking Ride leader & support crew
Support vehicles with driver (for luggage, gear & occasional passengers)
Tents, camping gear & provisions (for contingencies)
SINGLE ACCOMMODATION
The regular price of the tour is per person on the basis of twin-share accommodation. "Twin Share" means sharing either a "double bedded" OR a "twin bedded" room with either your companion (wife, husband, partner, friend etc.) or another member of the tour of the same sex (as assigned by us). However, an unaccompanied participant's "twin-share " booking is accepted only on the condition that if no roommate is available, the participant accepts that a single accommodation price be charged over and above the tour price. If you don't want to share a room you can purchase a single accommodation add-on. In fact, we recommend booking a "single" accommodation if you're a light sleeper or a loud snorer yourself. Single Accommodation is subject to availability. Please book early or check with us. We also reserve the right to impose a "single accommodation" price on a participant, like a minor participant or an unaccompanied participant, if he/she cannot be accommodated with another member of the tour due to any reason(s). Further details will be available for your perusal in the terms & conditions appended to the tour registration form.
Transfers to/from Airports/Railway stations
Travel Insurance policy covering use of motorcycle
Motorcycle damage deposit or damage waiver (optional)
All Lunches, All drinks / beverages (alcoholic or non-alcoholic)
Vaccinations and personal medication
Visa fee for India
Travel/ Holiday insurance
Items of a personal nature such as laundry, tips, gifts, telephone or fax services, emergency evacuation costs, fines Entry fees and camera fees for museums, forts, temples, monuments and other such places Anything not explicitly mentioned in the "What's Included" section
Also take a look at the itineraries of our other tours in the region --->>
IMPORTANT ADVISORY: Please note that touring in the Himalayas on a motorcycle involves considerable amount of riding on un-paved/dirt track/loose gravel/wet mud type surfaces as well as creek crossings, some of which range between moderate to difficult. Riders need to have confidence in their riding skills/experience to be able to handle their assigned bike under such conditions. We would expect that you have at least 3-4 years (10,000 - 15,000 KM) riding experience (& some off road skills) before you consider registering for these tours. Also, since the routes involve being at high altitudes (above 3500 M) and spending a couple of consecutive nights at ~4500 M, a certain level of health/fitness is a pre-requisite. If you have any precondition you should talk to your doctor before registering for this tour. Write to us if you have doubts or need further clarifications. Our Himalayan tours start and end in New Delhi where the temperature can get up to 42°C in July. Even in the Himalayas the temperature at low altitude can get up to 30°C. However, they can fall below freezing at high altitudes in the mornings and during the nights (0-5°C). Rain is a certainty with snow being a possibility. Packing list:  *On all our tours the space on the support vehicles is limited.  Hence, we request that you limit your baggage to 25 KG.
Driver's license*
International Driving Permit
Travel insurance**
Protective Riding Gloves
Riding boots
Riding jacket & pants
Helmet
Rain suit
Riding goggles
Balaclava
Eye drops
Sunscreen
Torch/Flashlight
Thermal underwear
Insect repellent

Suggested

Sleeping bag/liner***
Sunglasses
Hat
Scarf/Bandana
Ear Plugs
*Full and valid for  min 411cc motorcycle
**Must cover riding motorcycle overseas for leisure

Email Us: indianmotorcycletours@gmail.com
Or call: +91 9816285325