New Delhi, the capital and the third largest city of India is a fusion of the ancient and the modern. Standing along the West End of Gangetic Plain, the capital city, Delhi, unwinds a picture rich with culture, architecture and human diversity, deep in history, monuments, museums, galleries, gardens and exotic shows. Comprising of two contrasting yet harmonious parts, the Old Delhi and New Delhi, the city is a travel hub of Northern India. Narrating the city's Mughal past, Old Delhi, takes you through the labyrinthine streets passing through formidable mosques, monuments and forts. You will also discover lively and colorful bazaars that boast to cater all sorts of good and items at mind-blowing prices amidst a barely controlled chaotic ambience. The imperial city of New Delhi displays the finely curved architecture of British Raj.
(All our tours in North India, originate & terminate at New Delhi)
Area : 1902 sq. Km (National Capital Region)
Altitude : 200-250 m above sea level
Population : 21,753,486 (2011 census)
Density : 11297 persons per sq. Km.
Languages : Hindi, English, Urdu and Punjabi
Climate : Extreme Hot in Summer and Cold in Winter
Maximum Temperature : 46 Degree Celsius
Minimum Temperature : 04 Degree Celsius
Winter : December - February
Spring : March to mid April
Summer : April end to August
Autumn : September to November
Places of Interest: Red Fort, Jumma Masjid, Humayun's Tomb, India Gate, Qutub Minar & Delhi Haat.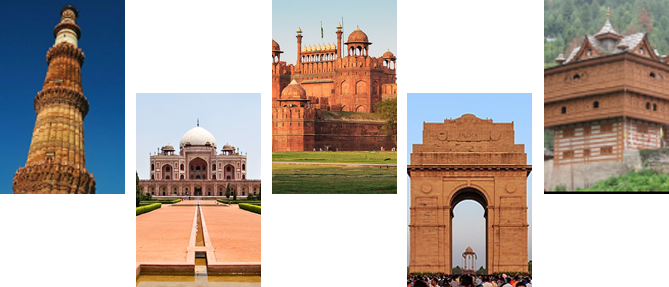 SHIMLA
Shimla, originally called Simla, is the state capital of Himachal Pradesh. It was the Summer capital of India under British rule from 1864 till India got its independence and has seen many important historical events such as the famous Shimla Pact between India & Pakistan which was signed here. A popular tourist destination, Shimla is often referred to as the "Queen of Hills" (a term coined by the British). Located in the north-west Himalayas at an altitude of 2,128 metres (6,982 ft), the city is draped in forests of pine, rhododendron, and oak, experiences pleasant summers and cold, snowy winters. The city is famous for its buildings styled in neo-gothic architecture dating from the colonial era. The Kalka-Shimla railway line which was constructed in 1906, added to Shimla's accessibility and popularity. The railway route from Kalka to Shimla, with more than 806 Bridges and 103 tunnels, was touted as an engineering feat and came to be known as the "British Jewel of the Orient". One of the prominent examples of architecture in Shimla is Indian Institute Of Advanced Studies. Housed in the former Viceregal Lodge, it was built in 1888. The style of architecture is English Renaissance, the masonry of the walling is light blue limestone and the wrought stonework is done in sandstone in a beautiful light grey tint. It has magnificent lawns. Other Places of interest: The Mall, Ridge & Christ Church
NARKANDA
 Surrounded by apple orchards, pine & deodar forests, Narkanda is a scenic village situated at the height of 2708 M.  The Hatu peak (3300 M) offers panoramic 360 deg views of the entire Himalayan ranges, snow clad mountains as well as the dense forests, green fields and apple orchards below.
AGRA & FATEHPUR SIKRI
On the banks of the Yamuna River in the northern state of Uttar Pradesh 200 km from New Delhi lies the town of Agra. It achieved fame as the capital of the Mughal emperors from 1526 to 1658 and remains a major tourist destination because of its many splendid Mughal-era buildings, most notably the Taj Mahal, Agra Fort and Fatehpur Sikri, all three of which are UNESCO World Heritage Sites. The Mughal Emperor Akbar built Fatehpur Sikri about 35 km from Agra, and moved his capital there. Later abandoned, the site displays a number of buildings of significant historical importance. A World Heritage Site, it is often visited by tourists. The name of the place came about after the Mughal Emperor Babar defeated Rana Sanga in a battle at a place called Sikri (about 40 km from Agra). Then the Mughal Emperor Akbar wanted to make Fatehpur Sikri his head quarters, so he built a majestic fort. However, due to shortage of water, he had to ultimately move his headquarters to Agra Fort.
BHARATPUR
Located 50 km west of the city of Agra, Bharatpur was founded by Maharaja Suraj Mal in 1733. Located in Mewat region, Bharatpur was once an impregnable, well-fortified city, and the capital of a kingdom ruled by Jat maharajas. It is home to a popupal bird santuary, Keoladeo Ghana National Park (now declared a World Heritage Site by UNESCO). This former duck-hunting reserve of the Maharajas is one of the major wintering areas for large numbers of aquatic birds from Afghanistan, Turkmenistan, China and Siberia. Some 364 species of birds, including the rare Siberian crane, have been recorded in the park.
JAIPUR
Also popularly known as the Pink City, Jaipur is the capital of Rajasthan state. It is the former capital of the princely state of Jaipur. Founded in 1727 by Maharaja Sawai Jai Singh II who ruled from 1699-1744 initially from his capital Amber, which lies at a distance of 11 km from Jaipur. He felt the need of shifting his capital city with the increase in population and growing scarcity of water. Jaipur is the first planned city of India. The King consulted several books on architecture and architects before making the lay out of Jaipur. Finally under the architectural guidance of Vidyadar Bhattacharya, (initially an accounts-clerk in the Amber treasury and later promoted to the office of Chief Architect by the King) Jaipur came into existence on the classical basis of principals of vastushastra and other similar classical treatise. Places of tourist interest include City palace, Hawa Mahal, Jantar Mantar, Albert Hall Museum, Nahargarh, Jaigarh & Amber Fort.
Himalayan Grand
The Spiti Circuit
Rajasthan 1 - North West
Rajasthan 2 - North South
Rajasthan 3 - Majestic
Rajasthan 4 - North South East
Kerala - Coconut Route